Nitin Gadkari, the union road transport and highways minister, has claimed that the highly anticipated widening work of the all important NH24 right upto Dasna in Ghaziabad will surely commence within the next three months or maybe even earlier. The game changing project is expected to cost the government and concerned authorities a whopping 5000 crores but money doesn't matter at all in front of development and comfort of people. The project involves extending of national highway 24 from the start of ITO till almost Dasna. The widening of NH24 to a state of the art 16 lanes will significantly improve the ease of commuting for people living in Delhi, Noida and Ghaziabad.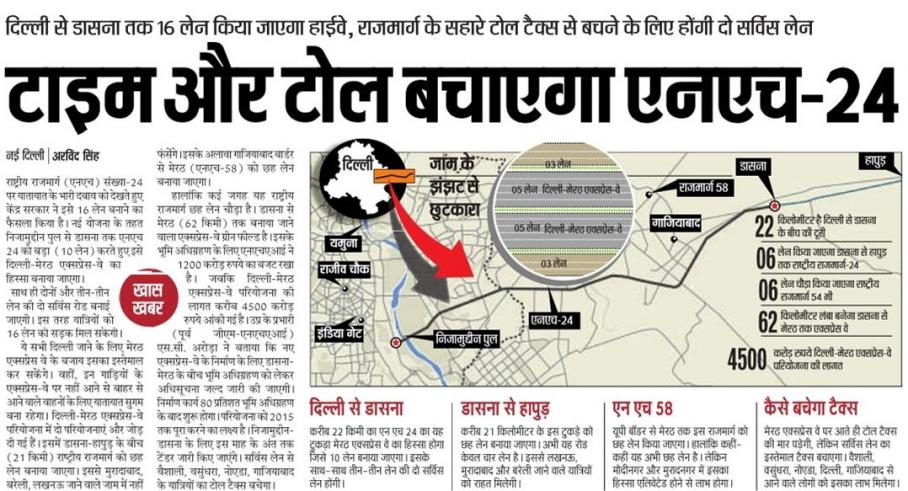 The current scenario isn't that bright. Traffic jams extend for hours and hapless commuters end up spending hours on the road. The much awaited widening of NH24 will commence strategically fro near the Yamuna Bridge and will reach Dasna via the Delhi-UP border. The widening project will eventually end up reaching the city of Meerut. The 16 lane NH24 will comprise of six expressway lanes and thus NH24 will be an access-controlled highway.
Therefore commuting woes related to travelling on NH24 will very soon become history, thus making the only real problem which plagues the otherwise fast developing NH24, a thing of the past. This highly appreciated move by Gadkari is all set to change the face of Ghaziabad for the way better. NH24 is fast becoming the new favourite of real estate end users and investors alike, and rightly so. The widening of NH24 will make it even more attractive to anyone and everyone under the sun. Prices of properties at NH24 will spike significantly once the construction work commences. Thus the return on investments at NH24 will skyrocket as well.
Thus there is absolutely no time and occasion like now to invest in NH24 and watch your money grow multifold. Prudent and wise investors are already lining up to invest in NH24 and rightly so. One of the favourite and biggest recipients of investors' confidence at NH24 has been Organic Homes by Rise Developers.
Rise Organic Homes is a home like no other. Organic Homes is being hailed as Ghaziabad's most organic, green and environment friendly residential living spaces. Hundreds of families have already instilled their faith and confidence in Rise Organic Homes and their lives will be changing for the way-way better pretty soon. Features like seamless integration of organic architecture, abundant flow of natural air and light in each apartment without exception, infinity swimming pool, rooftop clubhouse and a whole lot more have made Organic Homes a roaring success. Also all the major basic and luxury amenities like ATMs, hospitals, schools, colleges, malls, hotels etc are easily accessible within a 5KM radius. The success story of Rise Organic Homes has just commenced.
So explore the modern day marvels known as NH24 and Rise Organic Homes immediately. It will be one decision which will forge a lot of improvement in your life.